In the Fall of 2008, just as the economy in the US was tanking, we began to develop a 5 year plan to move to the Caribbean. Many months later after intense research and planning we decided that a move such as this wasn't as easily attainable for the middle-class as it is for the upper-class, wealthier, American citizen. Still we were determined, so a revised plan began to form. We both love traveling to and exploring new places and he had a dream of sailing as his grandparents had done years ago, so after careful thought and consideration (including some safety concerns that were discussed thoroughly on my part), we decided to combine it all by learning to sail, purchasing a sailboat, and moving aboard to cruise and explore as much as possible! And thus, the dream was born.
Welcome aboard! We are William and Jodi, and on these pages we plan to chronicle our dream from conception, through the challenges and obstacles we're sure to face, onto the wondrous places we'll visit and the wonderful people we'll meet, until the day we are forced to leave the water and retire back on land. Happy Sails!
Wind Dragon is a 1978 Hunter 33′ Cherubini designed Masthead Sloop.
The image below is only a representation and is not an actual picture of our Wind Dragon.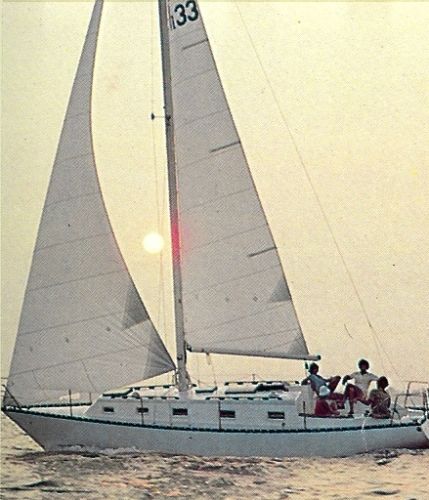 Site design and content by William and Jodi