After 30 plus years of service, I felt the water system in Wind Dragon was overdue for rebuilding.  There were a few things I had in mind to upgrade the water system to the 21st century.
A water filter was a must
Rather then filling the tank all the time while at dock, a direct connection would be nice
The ability to fill the tank with filtered water
It was also decided that while I was at it, new faucets!                            So below is a diagram and photos of the finished project.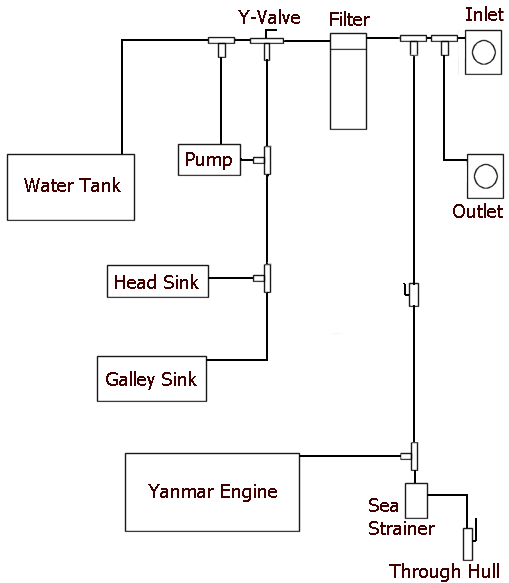 Items used in this project:
New 1/2″ water hose #162 from West Marine
New 5/8″ water hose #162 from West Marine (from filter to tank)
The Inlet is West Marine Model # 262865 Protects your boat's water system appliances and pumps from unregulated marina water pressure. Reduces pressure (up to 100psi) down to 35psi.
Built in backflow guard
Iin-line filter
3/4″ female garden hose connector
1/2″NPT connector on the other side
The Filter is a 10″ whole house water filter from Lowes.
The Y-Valve is a garden hose diverter from lowes.
The Pump is pressure activated Sureflo 2.8 gal/min  (came with boat)
The Outlet for the washdown hose is from ebay
Misc Brass and plastic fittings.
New faucets from Lowes
*************************
When at dock, the plan is to shut off the salt water through hull valve and use dock water for the sinks and engine. From the Inlet the water can be sent out the Outlet to wash down the decks. Also fresh water is available for the engine.  I think it would be good to flush the engine with fresh water when ever available.  The water is also sent to the filter and from there the Y-Valve (diverter) is used to either fill the tank with filtered water or supply the sinks with water.  When away from dock the Y-Valve will be closed and the sea water valve opened for normal engine operation and the sinks will draw water from the tank.
| | |
| --- | --- |
| Water Inlet (Outside) | Water Inlet (In Lazzerette) |
| | |
| Galley faucet (Mixer valve and rotating head) | The box it came in |
| | |
| Head faucet (mixer valve) | Box it came in |
| | |
| Filter, Y-Valve, Pressure water pump | Hoses that feed the valve in head |
| | |
| | |
| | |